For more information about the history of the Village of Shabbona, please visit the Shabbona-Lee-Rollo Museum website or visit the museum at 119 West Comanche Avenue, Shabbona, IL 60550.
Museum phone number 815-824-2597 and Hours are Tuesday & Thursday 9am-11:30am & 12:30pm-3pm, Saturdays 9am-11am. Our museum has a vast collection of historical information that spans a large area, historical displays, and free admission.
The Village of Shabbona is a small town with pride in its rich history and culture. The Village of Shabbona was established in the spring of 1872 and the first building was erected in the fall of 1872. The Shabbona Depot was moved to its present location in the village in 1873, the restored Depot is now part of Water Tower Park.
The Village of Shabbona takes its name from the Potawatomi Chief Shab-eh-nay. Shabbona was a peacemaker who settled tribal squabbles among the Three Fires Nation of Potawatomi, Ottawa, and Chippewa. He also worked for peaceful relationships between American Indians and white settlers.
There is a monument of Chief Shabbona located in front of Indian Creek Elementary School (301 W. Cherokee Street) encouraging new generations to learn about him. In the early development year of the Village, the town also honored Chief Shab-eh-nay and his tribe by naming the streets with Indian significance.
In 2006, the Prairie Band Potawatomi Nation reacquired 128 acres of its original 1,280-acre Shab-eh-nay Reservation in Shabbona.
For more information on Shabehnay Reservation: Prairie Band Potawatomi Nation, click here
Chief Shabbona Forest Preserve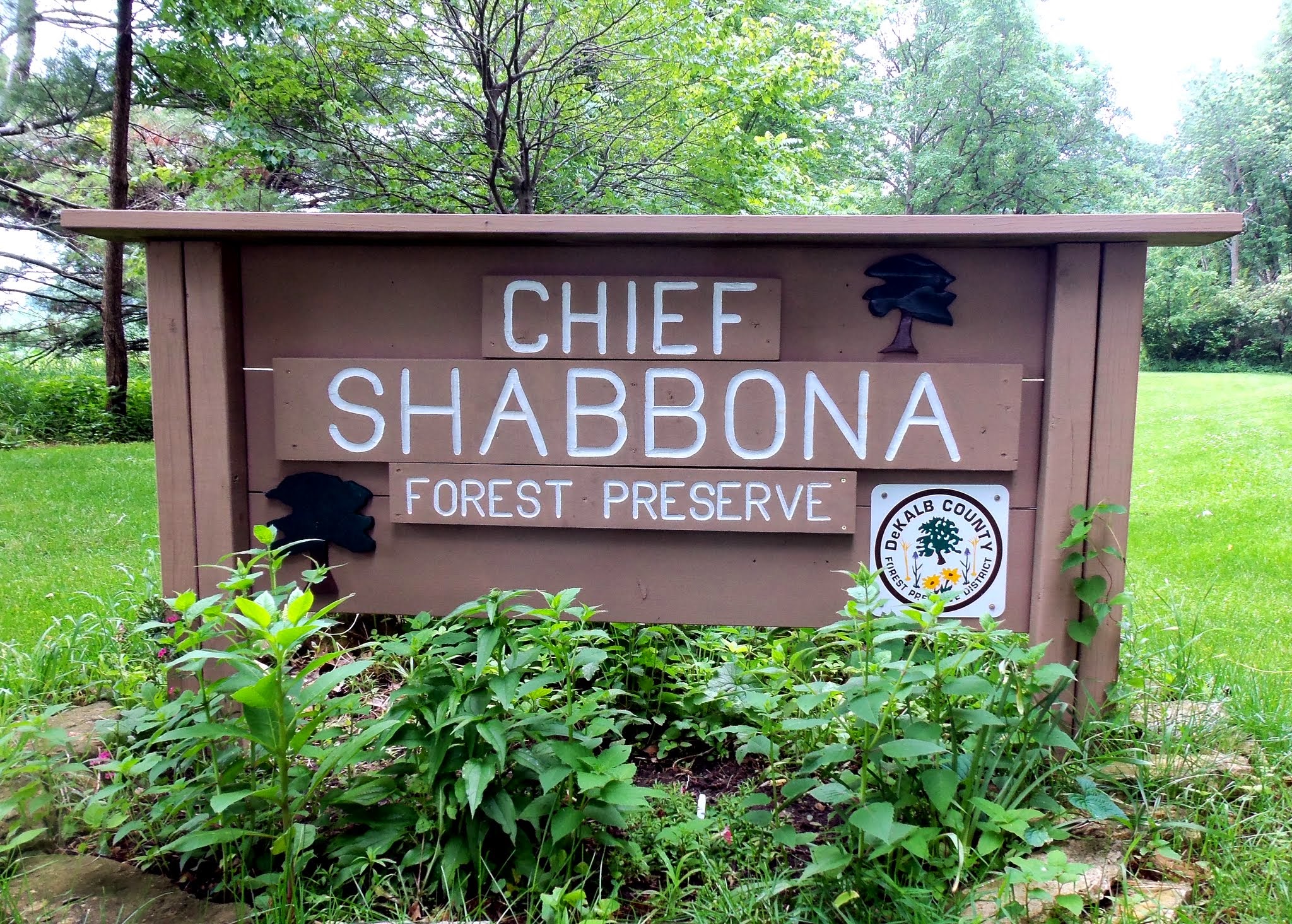 Chief Shabbona Forest Preserve is located on the northeastern border of Shabbona Lake State Park, once the home to its namesake Chief Shab-eh-nay. Chief Shab-eh-nay, his family, and members of the Potawatomi tribe lived on land which includes Chief Shabbona Forest Preserve, Shabbona Lake State Park, and the Village of Shabbona from 1836-1845. At this historical site, there are 88-acres with hiking, cross country skiing, snowmobiling, picnic areas, playground, enclosed shelters, handicap access, restrooms, and water. For information on reserving shelters, please visit DeKalb County Forest Preserve Shelter Rentals (click for link).